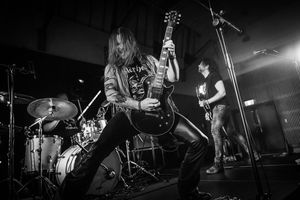 Bio
Pieces Of Molly is a 4 piece Rock N Roll band from Christchurch, New Zealand. The Bastard Child of a Motörhead / AC/DC one night stand. High octane, filth fuelled garage rock n roll that echoes all the hallmarks of the greats, past and present. 
The band is made up of Ewen Glasgow (vocals/guitar),  Doug Stewart (bass), Sam Kubiak (guitar), and Kurt Fleming (drums). 
Pieces Of Molly released their debut album in October 2022 stirring up the New Zealand music charts by landing in the top 20 with two singles - "I Don't Wanna" and "Dead Sky" 
"Have you ever heard a tune for the very first time, and within 10 seconds been like "holy crap this is insane, where did this come from???" Very few bands that I listen to ever give me that massive burst in energy like i got when opening the very first track Atomic Fuzz on Pieces Of Molly's brand new self-titled album." Carl Hayman. Music.net.nz
"I Dont Wanna" music video
 the self-proclaimed 'mind altering riff hypnotists' have written an anthemic track about the push and pull, or ups and downs, experienced when burning the candle at both ends - and what could be a more perfect anecdote than high-octant primal rock n roll to smash out your feelings too. 
"The song was originally 'shelved' after we started jamming it," says lead singer Ewen Glasgow, "but months later I came up with the pre-chorus and it made the song come alive. That's when we knew it was a banger."